Social Media & Sentiment Data
Leverage the Wisdom of the Crowd
The cryptocurrency market is driven by narratives that emerge and evolve on Social Media, with Twitter being at the center. With hundreds of thousands of unique Tweets and social media posts daily about digital assets, it is nearly impossible to stay on top of key emerging trends and topics. Over the last five years, The Tie has captured and recorded every single crypto-related Tweet across nearly one thousand unique cryptocurrencies, and captured data on TikTok, 4Chan, and YouTube. Use The Tie Terminal to leverage the wisdom of the crowd and make smarter and more informed allocation decisions.
Contact Us
Key Benefits
The Tie Social Media & Sentiment Data

Comprehensive Insights

The Tie Terminal captures and quantifies data from Twitter, YouTube, TikTok, and 4Chan, providing unique social metrics and investor sentiment measures.

Crypto-Specific Data

The Tie's natural language processor ensures our Social Media data reflects only conversations about digital assets, and not similar or overlapping (yet unrelated) terms.

Deep Historical Coverage

The Tie Terminal offers years of social data, enabling users to monitor changing narratives, identify emerging tokens and trends, and stay ahead in the competitive crypto landscape.
A closer look at
Social Media & Sentiment Data
Quantified Twitter Data
Exclusive Access to Twitter Firehose
We provide data from the Twitter Firehose, capturing over one billion Tweets per day and offering five years of point-in-time data on Twitter activity for crypto conversations, helping you monitor emerging narratives and identify trending tokens and topics.
Proprietary Natural Language Processing
Our proprietary NLP technology ensures the relevance and accuracy of captured Tweets, filtering out unrelated content (e.g. distinguishing Avalanche the cryptocurrency from the hockey team) and eliminating bot activity for reliable social metrics.
Comprehensive Social Metrics and Sentiment
We offer over a dozen unique metrics, including Tweet Volume, unique accounts Tweeting, geographic distribution, and quantified measures of investor sentiment, providing valuable insights into the crypto market. For API access to Twitter metrics, explore our Sentiment API.
The Most Comprehensive Social Coverage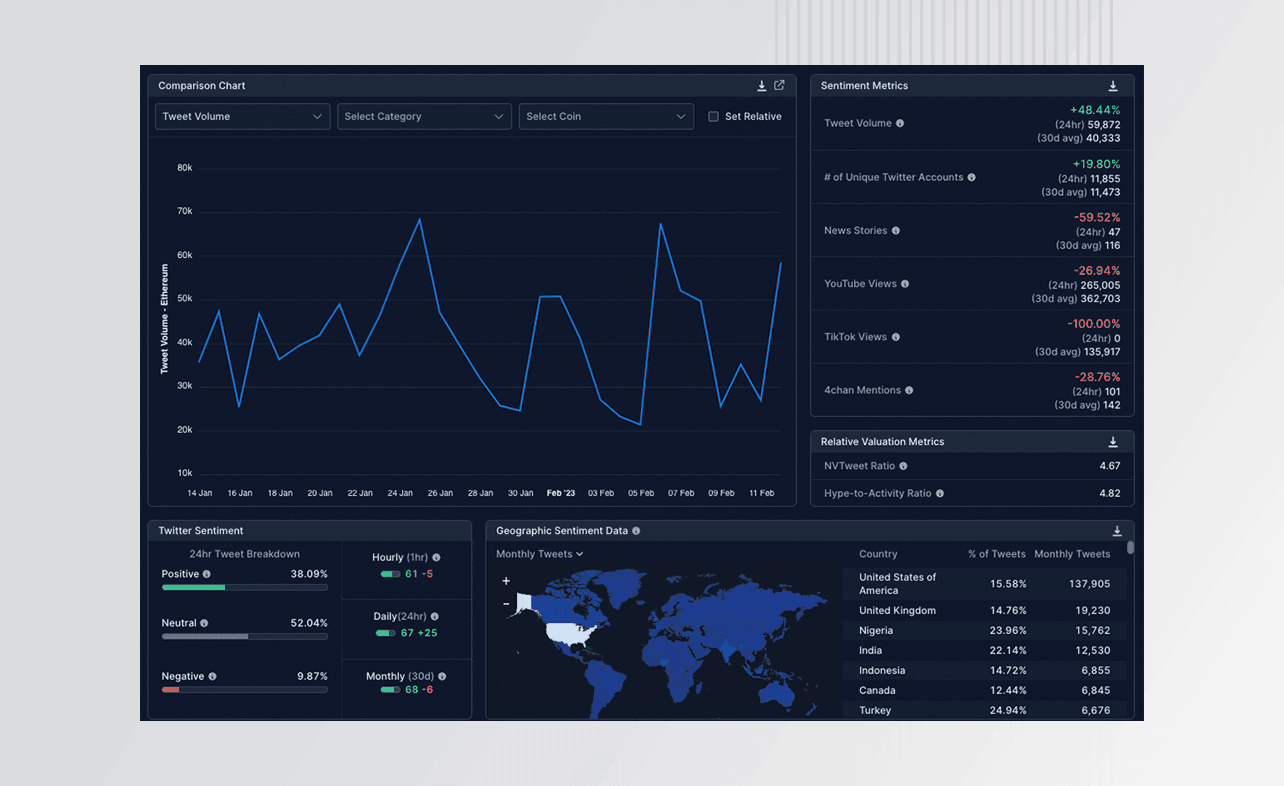 Comprehensive View of Crypto-Social Activity
The Tie Terminal goes beyond Twitter to provide data on other platforms where crypto communities thrive, ensuring a holistic understanding of market-moving trends. Our coverage includes YouTube, TikTok, and 4Chan.
Stay Informed on Market-Moving Trends
By monitoring social activity across multiple platforms, The Tie Terminal helps you stay informed about the latest developments and trends that could impact the digital asset market.
Web Traffic is Critical for Certain Assets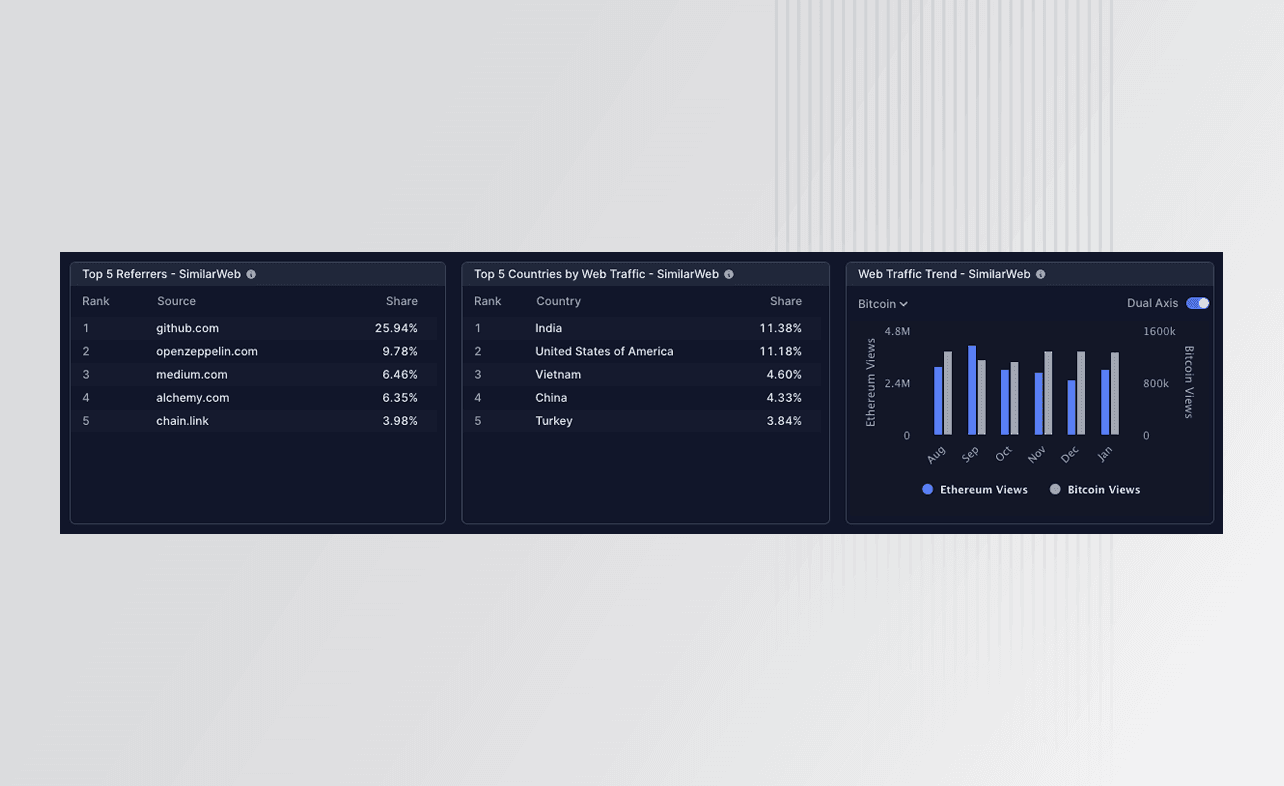 Harness Web Traffic Data for Insights
The Tie Terminal provides web traffic data for cryptocurrency websites offering a valuable proxy for user interest and interaction with protocols.
Monitor Emerging Assets and Trends
Web traffic data helps you identify emerging assets, assess user interest, and detect shifts in trends, allowing you to stay ahead of the market and respond to changes in demand.

Talk to a Solutions Expert
Connect with our team to see how The Tie's best-in-class datasets keep you on top of the crypto market.
The Tie Terminal
The most comprehensive data platform for institutions in digital assets.
The Tie Terminal™ is the leading information platform for institutions in digital assets. With its unmatched breadth and depth of proprietary data, our platform powers a consolidated workflow, giving professionals all the information they need to stay on top of the crypto market, and make more informed decisions.
See The Tie Terminal
Explore The Tie's Datasets & APIs