Redistribution (Exchanges & Brokerages)
Level-Up Your Trading Platform With Our Data
Trading venues face challenges capturing and retaining users - lower fees and more trading pairs no longer offer the competitive edge they once did. In a hyper-competitive market, it is imperative for your platform to offer unique, differentiated features to capture and grow market share. The Tie's suite of actionable metrics and indicators are designed to enhance your offerings and to encourage your users to trade more often.
Contact Us
Key Benefits
Differentiate Your Trading Platform to Grow Volume

Drive Web Traffic & Engagement

Enhance your platform with unique indicators (e.g. social activity, on-chain stats) to attract visitors and generate trade ideas.

Convert & Maximize Trading Volume

Use limited previews to convert visitors to funded accounts, and provide actionable data and alerts to maximize trading volume and engage clients in market opportunities.

Fast Integration

Incorporating our production-ready APIs streamlines integration into your platform and accelerates time-to-market.
A Range of Features Designed to Encourage Increased Trading Activity
News Feeds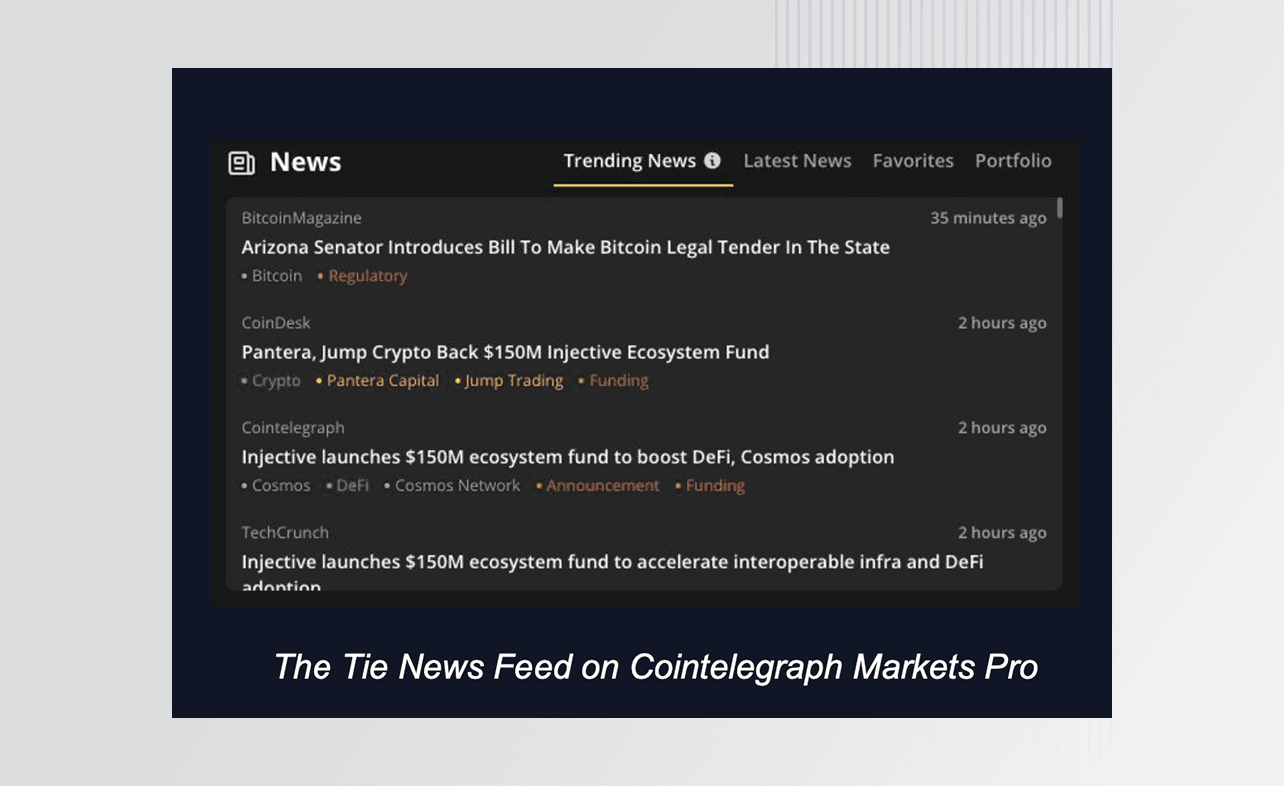 Integrate our News Feeds covering more than 500 of the leading cryptocurrencies, accurately tagged and sourced from the top crypto native (e.g. CoinDesk), mainstream (e.g. New York Times), finance (e.g. WSJ) and technology (e.g. TechCrunch) publications.
Feeds of the top trending stories (measured by Twitter activity) enable your users to see a consolidated view of market-moving News.
On-Chain Event Signal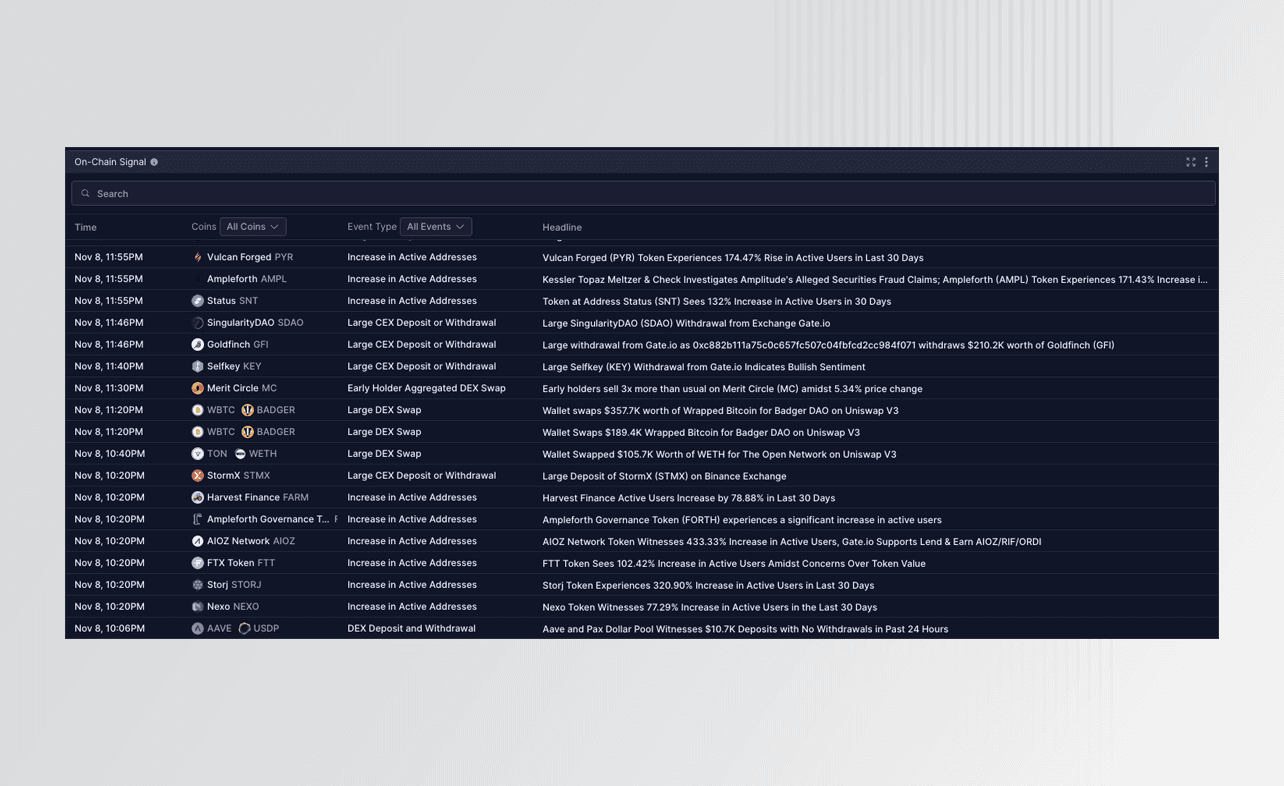 On-Chain Signal is a news feed of significant and often market-moving on-chain events like exchange flows, large spikes in usage, or notable on-chain movements among known wallets.
On-Chain Signal delivers actionable indicators for users to identify new trading opportunities.
Feeds are customizable and can be filtered against specific event types, or individual tokens.
Hottest on Twitter Dataset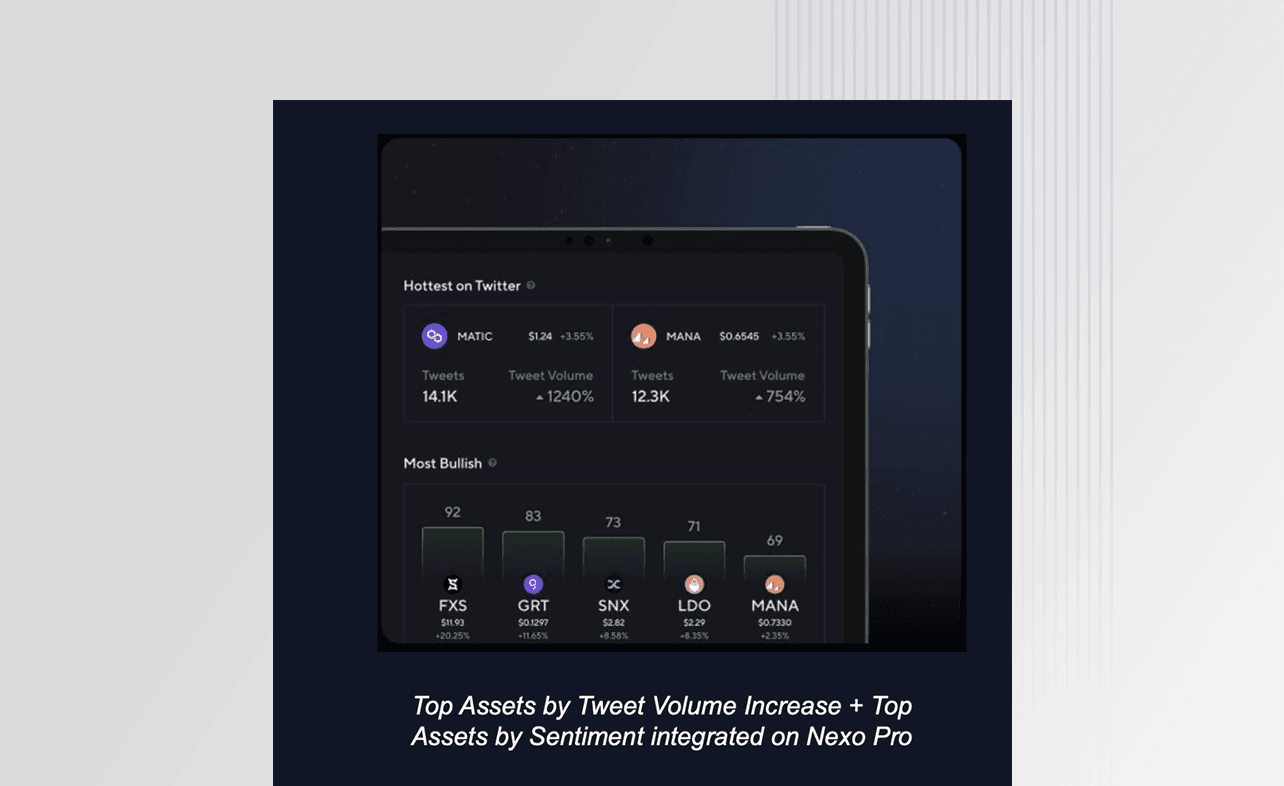 Exclusive Social Media indicators that reveal what's trending across Crypto Twitter.
A real-time view of the assets that are driving the biggest daily increases in Twitter conversation.
Beyond conversation volumes, provide your users with a list of the assets generating the most positive and negative sentiment of the day on Twitter.
Data is updated every minute and is based on The Tie's exclusive access to the Twitter Firehose - the real-time feed of 1B+ Tweets per day, licensed directly from X (formerly Twitter).
Solutions Tailored to Your Needs
Token Descriptions
Provide users with up-to-date details and relevant background for 100+ leading cryptocurrencies.
Token Descriptions include a general About section, as well as Token Economic Notes that explain each coin's utility and its value-accrual mechanisms.
Token Taxonomy
The Tie offers a comprehensive classification taxonomy for over 1,000 assets.
All assets are categorized into relevant Sectors, Sub-Sectors, and Ecosystems.
By leveraging our Token Taxonomy, you can provide your users with more granular context around market moves, and improve discoverability of new assets.
Our data and tools are integrated into major exchanges and trading venues, including:





Explore The Tie's Datasets & APIs

Talk to a Solutions Expert
Connect with our team to see how our data can drive more engagement and usage of your product.