Redistribution (Exchanges & Brokerages)
Level-Up Your Trading Platform With Our Data
There are hundreds of exchanges and brokerages in this industry with little differentiation. In addition to the challenge of attracting clients, it's difficult to retain them. With trading fees experiencing a race to zero and major assets already being available in most venues, exchanges need to elevate their platforms above the competition in unique ways. We provide exchange platforms with actionable metrics and alerts to help them build more compelling offerings and drive increased trading volume activity.
Contact Us
Key Benefits
Redistribute The Tie's Data

Drive Web Traffic & Engagement

Enhance your platform with unique indicators (e.g. social activity, on-chain stats) to attract visitors and generate trade ideas.

Convert & Maximize Trading Volume

Use limited previews to convert visitors to funded accounts, and provide actionable data and alerts to maximize trading volume and engage clients in market opportunities.

Tailored Solutions & Fast Integration

Collaborate with our team to design custom integrations, ranging from news feeds to data terminals. Benefit from production-ready APIs, optional bespoke iframes, and rapid time to market.
How We Can Help
Drive More Web Traffic
Without proprietary analytics and tools, non-registered users have little reason to visit a trading venue. We can work with you to build a free-to-use offering that drives additional traffic and usage to your site or mobile app.
Build in-platform market overview dashboards with unique indicators, such as social activity, on-chain activity, or exchange inflow/outflow stats, to compel non-registered users to visit your platform for insights and trade ideas. Build entire asset pages using our data to improve SEO and drive increased traffic to your platform.
Convert Website Visitors to Funded Accounts
Give limited previews of our indicators to non-registered users, but require them to create an account to unlock full access.
Maximize Trading Volume
Actionable and trustworthy data encourages trade idea generation and execution. Provide indicators to improve trading activity of users, such as the top 5 highest tokens by market sentiment. Leverage our alerting infrastructure to deliver timely and actionable insights to your clients that engage them in market opportunities (ex: alert clients every time an asset sees a 100% increase in on-chain activity or when a major market moving news event occurs).
Solutions Tailored To Your Needs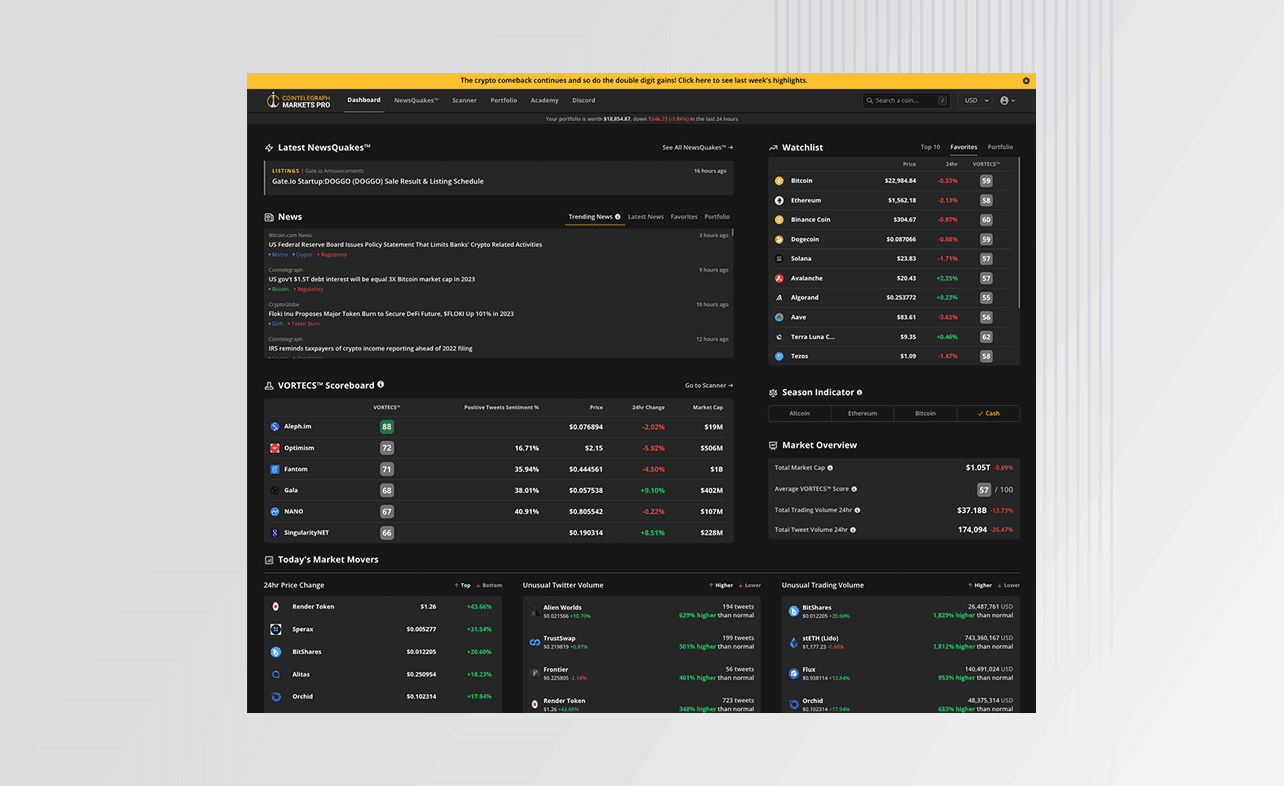 Institutional-Quality Data
Integrate the same data that we provide to the world's most sophisticated investors to users of your platform
Customized Data Integration
Collaborate with our team to design data integrations that align with your unique needs, from simple news feeds to fully-embedded data terminals
Explore Our Diverse Datasets
Why The Tie?
Industry-Leading Data Quality
Integrate the same data that we use on The Tie Terminal and that is trusted by more than 150 of the leading hedge funds and institutional investors in crypto.
Fastest Integration Time
The Tie's APIs are production ready for immediate integration. If development resources are a constraint, we can also deliver bespoke iframes designed to look and feel native to your platforms. Don't let development limitations constrain your time to market - go live this month, not next year.

The Tie for Nexo - 100% of this page is delivered via iframes designed to look native to Nexo
All In One
We offer news feeds, alerting, sentiment data, on-chain indicators, developer metrics, and more via a consolidated API. We are the only partner you need to reinvent your trading platform.
Our data and tools are integrated into major exchanges and trading venues, including:





Explore The Tie's Datasets & APIs

Talk to a Solutions Expert
Connect with our team to see how our data can drive more engagement and usage of your product.