News
The Most Comprehensive Source of Breaking News in Crypto
News moves markets. That is particularly the case in crypto, where fundamentals are less widely accepted and assets are more volatile. The lack of centralization of information in crypto makes succinctly and efficiently tracking news seem implausible, with institutions often missing market-moving rulings from regulators, major announcements, or token outages and hacks. That is why we built SigDev - the most comprehensive and powerful way to track Significant Developments in crypto.
Contact Us
Key Benefits
The Tie Terminal News

Real-Time & Comprehensive Coverage

Access the most comprehensive source of breaking news in crypto, delivered directly from thousands of primary and secondary sources.

Customizable & Relevant News Feeds

Create highly-refined and customizable news feeds, with proprietary tagging models that filter out noise and deliver clean, relevant news.

Monitor the Market's Response

Utilize powerful charting features to track the market's reaction to news in real-time and visualize historical events.
A Closer Look At
Industry-Leading News
Get the News Before It's Published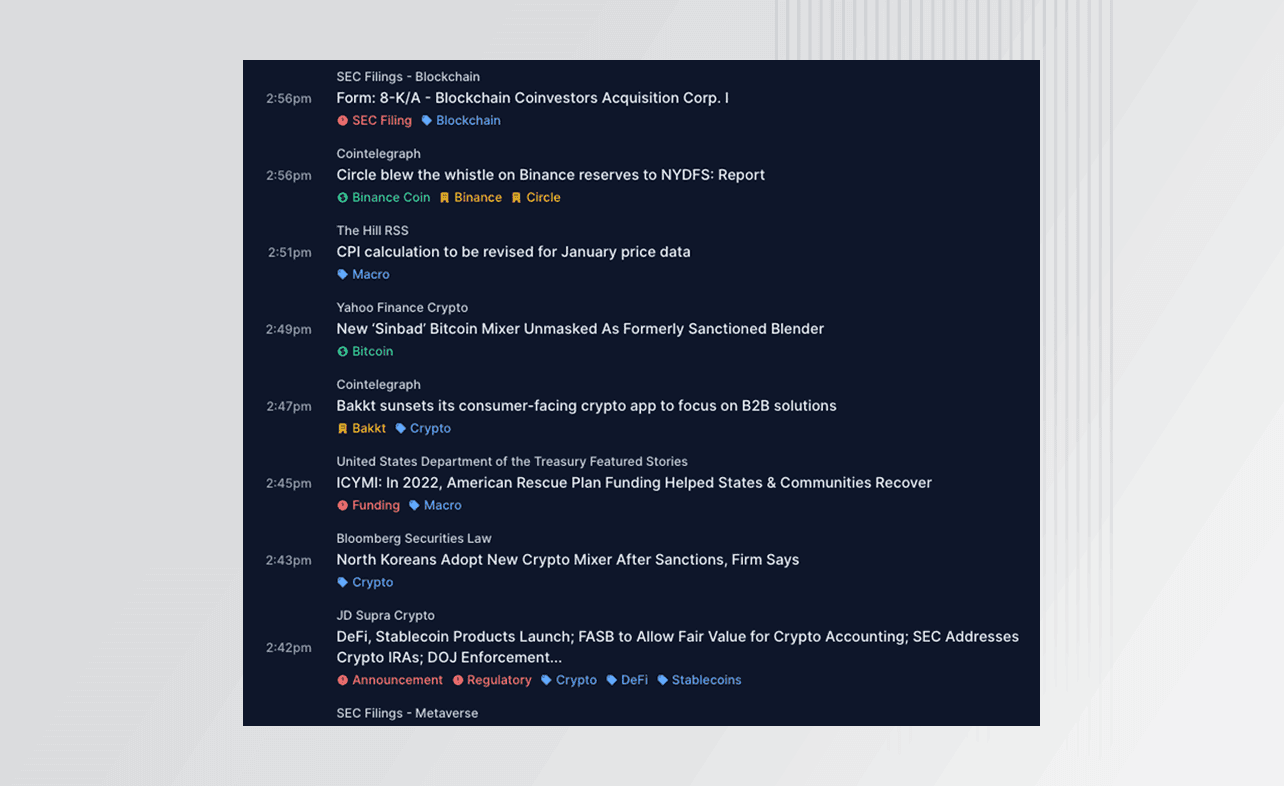 Stay Ahead
Access real-time news critical for identifying opportunities and managing risk before the window of opportunity closes.
Direct from the Source
Receive a direct news stream from thousands of primary sources including tokens, exchanges, SEC filings, companies, funds, courts, and regulators.
Trusted by Industry Leaders
In addition to our institutional clients, three of the four largest crypto publications rely on The Tie Terminal as their main source for breaking stories.
A Feed of Clean and Relevant News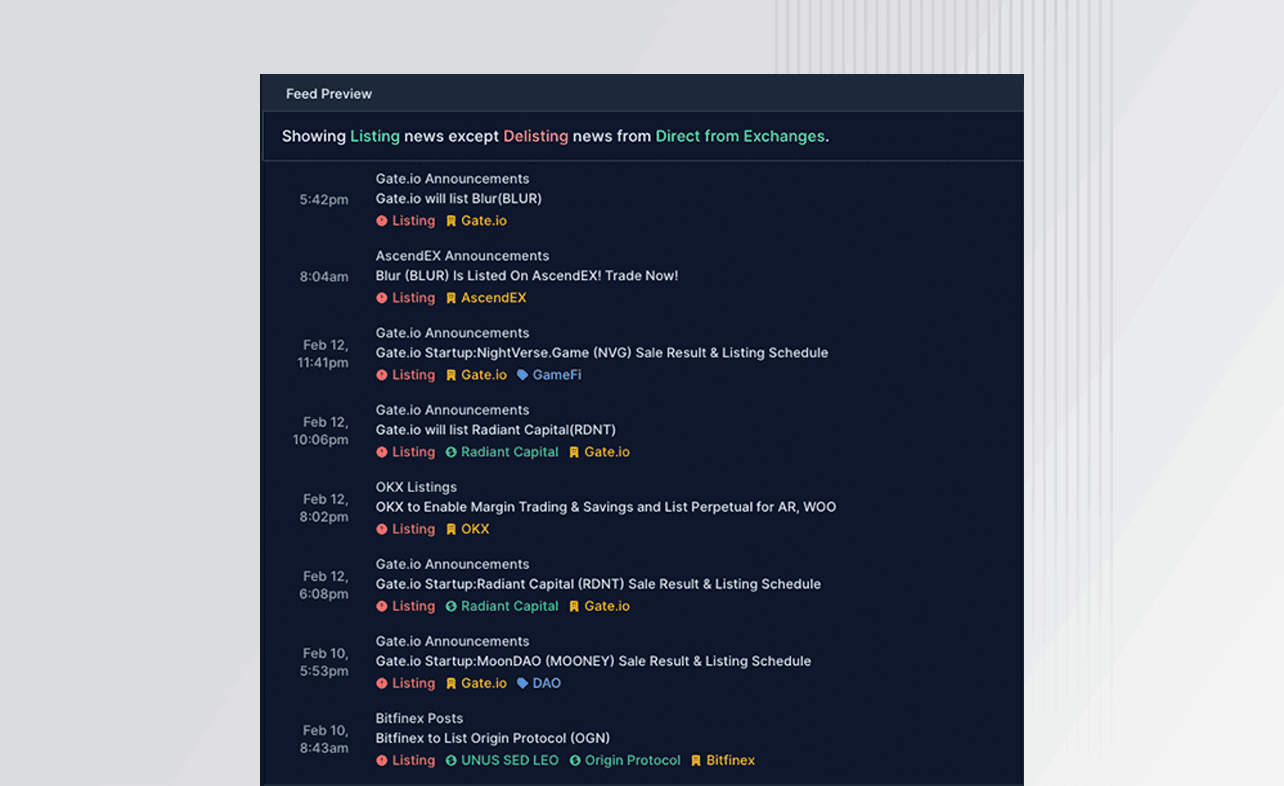 Filter Out the Noise
Proprietary models tag news items with relevant coins, companies, and crypto-related topics, ensuring you receive only relevant news.
Expert Monitoring
Crypto-native experts continuously monitor tagging models for maximum accuracy, avoiding confusion with unrelated topics.
Customizable News Feeds
Combine tags, topics, and sources to create refined news feeds, or select from pre-set feeds for high-impact events like exchange listings, M&A, hacks, and regulatory rulings.
Customizable News Feeds Enable Powerful Alerts
Stay Informed with Alerts
Set up News alerts delivered via The Tie Mobile App, in-platform, email, Slack, Telegram, Discord, or custom webhook.
Custom News Feeds
Create customized feeds or select pre-defined feeds of critical events to stay informed.
Dedicated Account Management
Work with our account management team to create custom news feeds tailored to your specific needs.
Track the Market's Response to News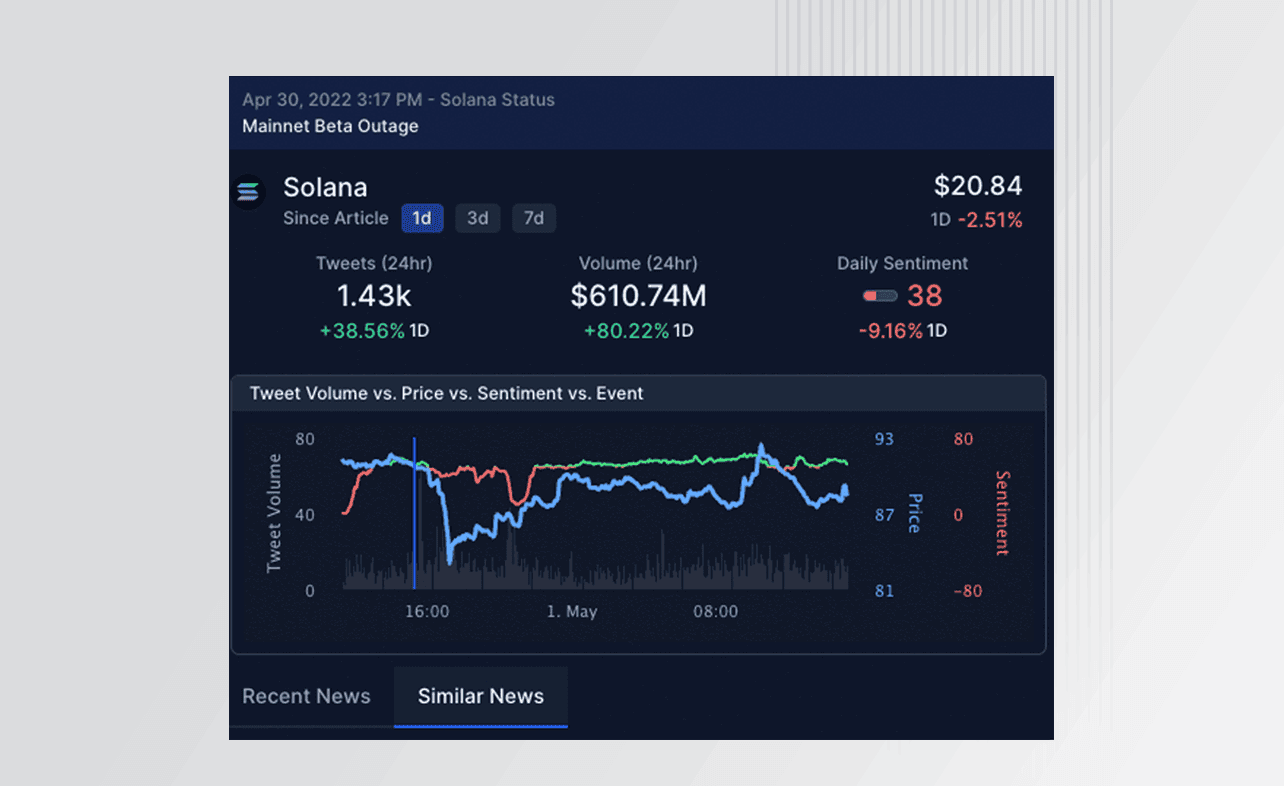 Monitor Market Reaction
Track real-time responses to news, including price, on-chain activity, trading volume, and social metrics.
Visualize Historical Events
Analyze similar historical events to be better prepared for market reactions.
Powerful Charting Features
Utilize The Tie Terminal's charting tools to gain insights and make informed decisions.
Streamlining Workflow for Non-Traders
Monitor Critical News
Stay informed on competitors, M&A activity, institutional leads, hedge fund filings, and more with SigDev feed.
Streamline Tasks
Consolidate critical information to optimize efficiency and reduce repetitive tasks.
Stay Compliant
Leverage coverage of global regulatory jurisdictions to remain compliant with evolving digital asset regulation.

Talk to a Solutions Expert
Connect with our team to see how The Tie Terminal keeps you on top of the crypto market.
The Tie Terminal
The most comprehensive data platform for institutions in digital assets.
The Tie Terminal™ is the leading information platform for institutions in digital assets. With its unmatched breadth and depth of proprietary data, our platform powers a consolidated workflow, giving professionals all the information they need to stay on top of the crypto market, and make more informed decisions.
See The Tie Terminal
Explore More on The Tie Terminal