Sentiment API
The Most Complete Sentiment API in Crypto
Leveraging exclusive access to Twitter Firehose data (Twitter's Full API), The Tie's Sentiment API provides real-time, complete, and actionable data on crypto's most active social network. The world's most sophisticated quantitative hedge funds leverage The Tie's Sentiment API to build and augment their trading strategies to drive alpha in an increasingly competitive landscape.
Contact Us
Key Benefits
The Tie Sentiment API

Comprehensive & Real-Time Data

The Tie's Sentiment API provides real-time, complete, and actionable sentiment data on Twitter.

Extensive Data History for Backtesting

Sentiment API offers point-in-time, out-of-sample Twitter data going back to 2017 on more than 500 cryptocurrencies.

Actionable Indicators for Strategy Building

The Sentiment API features both raw volume metrics and quantified measures of investor sentiment with varying lookback periods and frequencies.
A closer look at
Sentiment API
5 Years of Data History
Extensive Sentiment Data
Access historical Twitter sentiment data on 500+ cryptocurrencies since 2017.
Validate Strategies
Backtest and build conviction in your trading models using The Tie's comprehensive data.
An Array of Actionable Indicators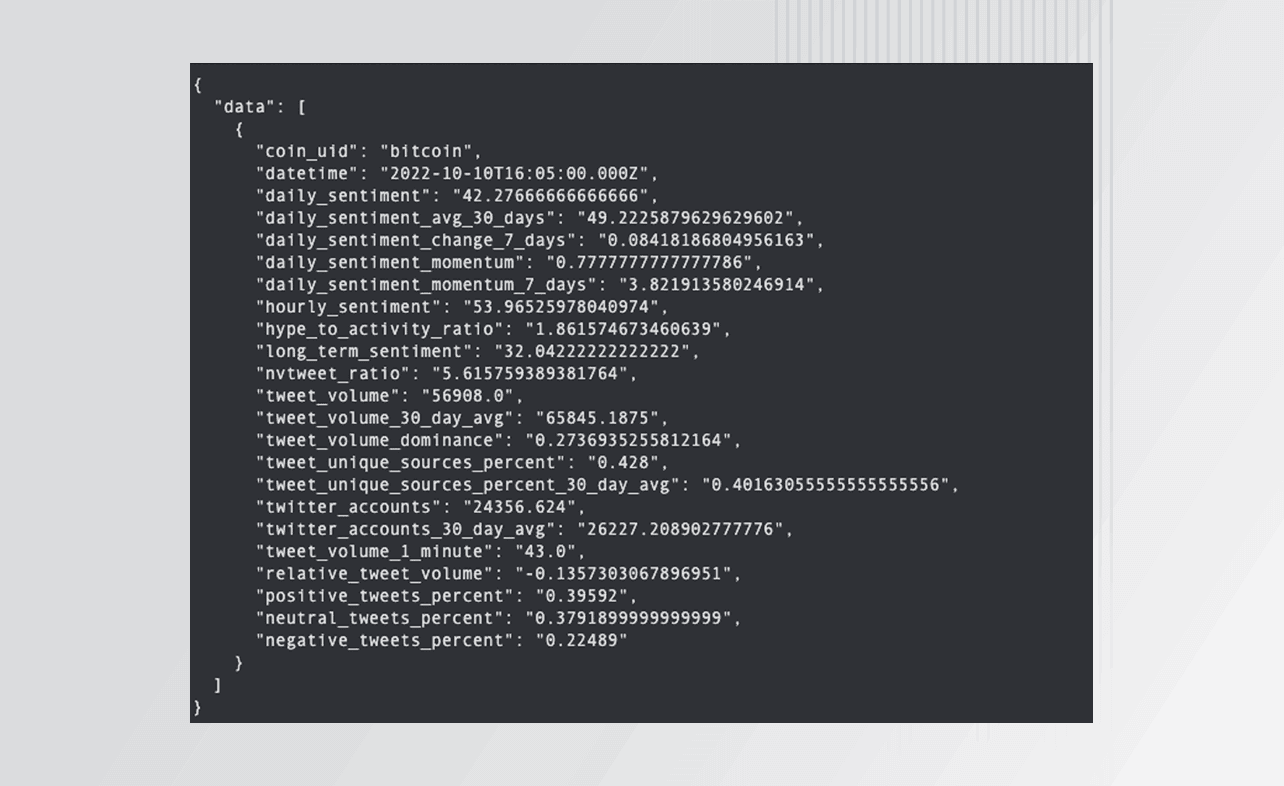 Comprehensive Sentiment Metrics
Get raw metrics (e.g. tweet count, unique accounts) and sentiment metrics (raw and normalized) with various lookbacks and frequencies.
Versatile Data
Utilize years of data for both long-term and high-frequency strategy building.
Improve the Accuracy of Your Trading Strategies
Trusted by Leading Hedge Funds
The Tie's Sentiment API is used in production by top hedge funds to improve model accuracy.
Generate Alpha
Discover how our clients leverage The Tie's market-leading Sentiment API to identify profitable opportunities.
Explore The Tie's APIs and Datasets

Talk to an Expert
Connect with our team to see how The Tie's APIs can improve your quantitative models.