Research
Aggregated Research from Over 20 Leading Crypto Firms
The Tie has partnered with more than twenty of the leading institutional service providers and crypto firms to build a more comprehensive research experience. Read market summaries from The Tie - including weekly market update reports and technical exchange updates, and explore research from top firms in crypto including GSR, Cumberland, CoinShares, and NYDIG. Third party research includes daily market color from OTC desks and deep-dive reports from hedge funds, tokens, and service providers.
Contact Us
Key Benefits
The Tie Terminal Research

Comprehensive & Diverse Insights

Access aggregated research from over 20 leading crypto firms.

Streamlined Research Experience

Simplify your research process with tags for relevant assets, search functionality for specific phrases, topics, or trends, and easily find protocol-specific insights.

Customizable Alerts & Inclusivity

Stay informed with alerts on your favorite research publishers.
A closer look at
Research
Simplify Your Research Process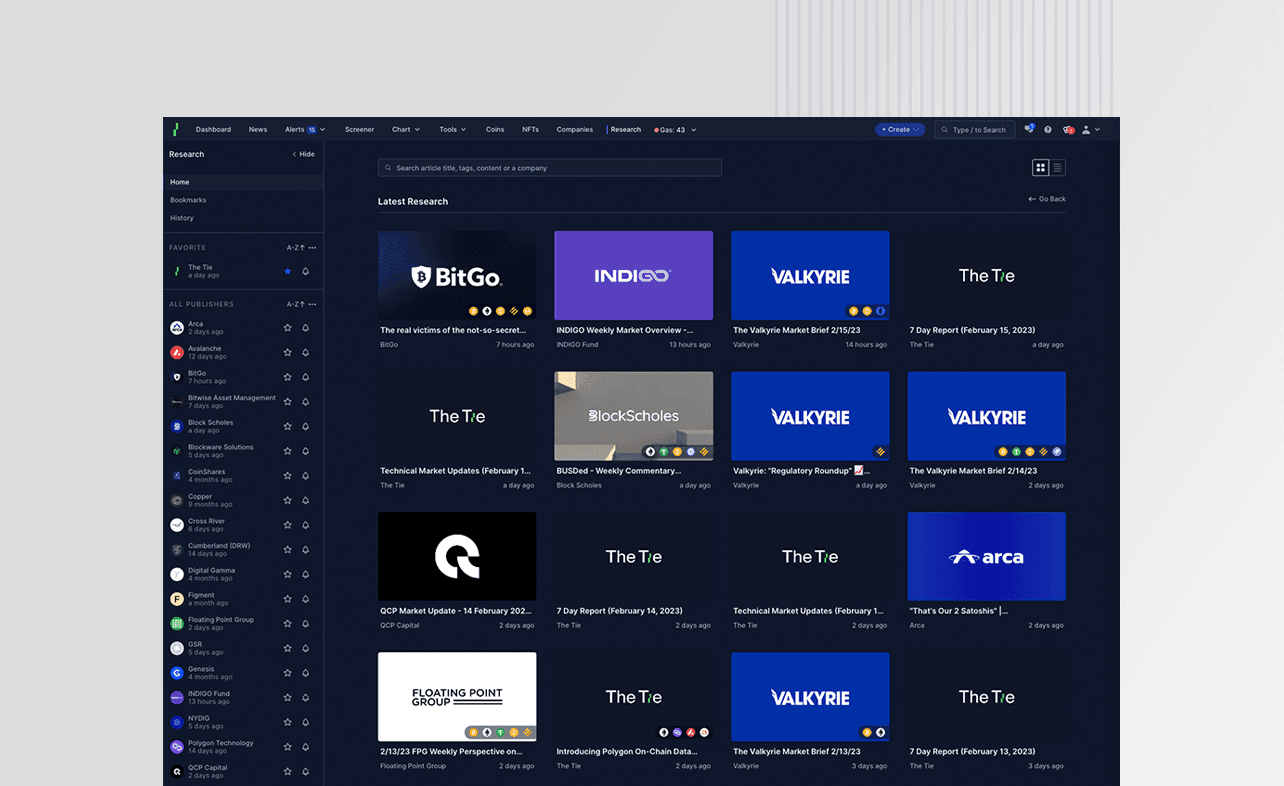 Relevant Asset Tagging
Each research report on The Tie Terminal is tagged with relevant assets, allowing easy search for token-specific research.
Explore Insights from Top Firms
Access protocol-specific insights from firms like Cumberland, Figment, and Bitwise.
Simplify Research with Search Functionality
Use search functionality to find research on specific phrases, topics, or trends (e.g. zkEVM, Liquid Staking Derivatives) for high-quality market insights.
Get Alerted
Save and Access Favorite Research
Save your favorite research publishers for quick access to the content you care about.
Set Alerts for New Research
Receive notifications when specific providers post new research.
Alerts on Multiple Platforms
Get alerts via Email, Mobile App, Slack, Discord, Telegram, or Custom Webhook for convenience on-the-go.
All Inclusive
Aggregated Research
Access research from various non-public sources, all in one place.
No Extra Permissioning
Everything in The Tie Terminal is available for free without additional access restrictions.
Comprehensive Insights
Benefit from a wide range of research sources at no extra cost.

Talk to a Solutions Expert
Connect with our team to see how The Tie Terminal keeps you on top of the crypto market.
The Tie Terminal
The most comprehensive data platform for institutions in digital assets.
The Tie Terminal™ is the leading information platform for institutions in digital assets. With its unmatched breadth and depth of proprietary data, our platform powers a consolidated workflow, giving professionals all the information they need to stay on top of the crypto market, and make more informed decisions.
See The Tie Terminal
Explore More on The Tie Terminal