The 3 'U's of Alternative On-Chain Data – Sacha Ghebali @ EthCC 2023
By Jake Langer
July 20, 2023
The Tie's Director of Strategy & BD, Sacha Ghebali, presented "The 3 'U's of Alternative On-Chain Data" at EthCC 6 in Paris. In his presentation, he looked at the importance of Unlocks, Usage, and Unit Economics.
Find the full presentation below, as well as a recap covering some of the key charts and insights that Sacha presented.
The Tie recently conducted an extensive study of over 350,000 unique unlock events, involving more than 100 tokens. For each token, our researchers meticulously examined white papers, blog posts, vesting contracts, public forums, and private conversations with teams dating back to 2016.
One finding from The Tie's research reveals that, on average, prices declined leading up to a token unlock. However, in cases where the unlock represented more than 100% of the average daily trading volume, prices tended to rebound faster, albeit for a brief period. This could be attributed to traders feeling relieved that the unlock did not flood the market with new tokens immediately. Nonetheless, within two weeks, prices of tokens facing such significant unlocks fell below their initial levels at the time of the unlock. This may suggest that holders preferred to wait a few days before selling into the market.
The concept of unlocked tokens becomes evident in the above graph. Tokens with larger unlocks compared to average trading volumes show exponential increases in trading volumes post-event.
Leveraging On-Chain Usage Data to Contextualize DeFi Performance
One way to value DeFi tokens is by applying multiples commonly used in traditional finance. Specifically, the market capitalization can be assessed as a multiple of revenue generated through fees. Remarkably, DeFi multiples have been aligning with those of software-as-a-service (SaaS) companies for the last couple of years. Initially, in 2020, multiples in the high teens were observed, but by the end of 2021, SaaS companies reverted to a multiple of approximately 10x. Likewise, DeFi projects showed a similar trajectory but are now trading at much higher multiples of revenue than SaaS companies.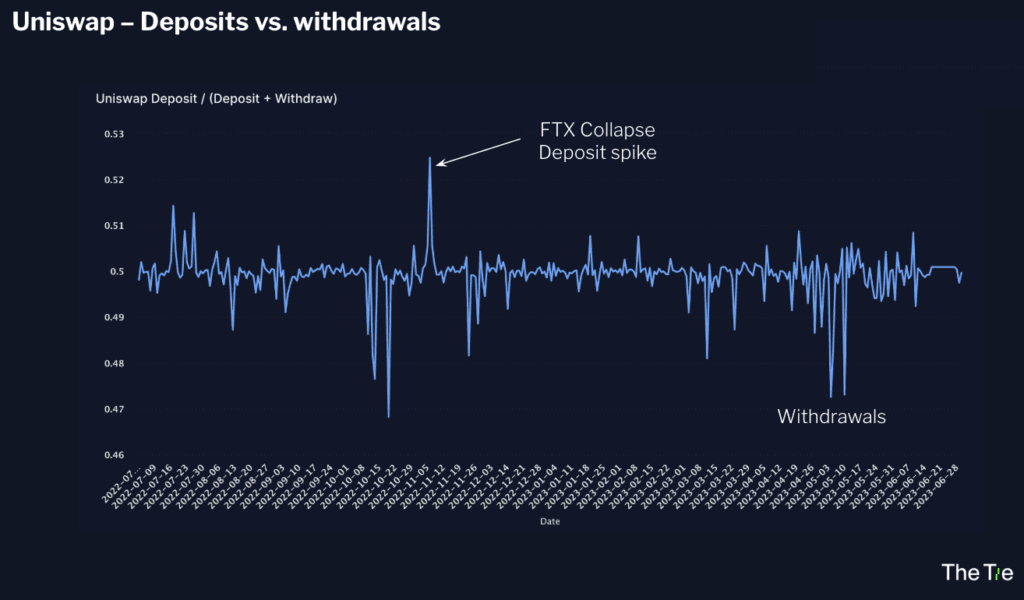 Given its substantial size compared to other competitors, Uniswap provides insight into the market's sentiment towards DeFi. When FTX collapsed in early November, there was a notable increase in deposits on the platform, reflecting traders shifting from centralized to decentralized exchanges. Similarly, the Pepe memecoin hype in early May resulted in heightened user activity and fees on Uniswap, leading to a brief period of withdrawals relative to overall activity.
Among its potential rivals, Sushiswap has the highest number of shared users with Uniswap. However, Uniswap exhibits significantly lower churn rates and has consistently retained a higher percentage of its users than Sushiswap. The exact reasons for this may vary, such as liquidity or user interface preferences.
These insights Sacha presented leverage The Tie Terminal's unique datasets and features, including Token Unlock Data and Usage Trends. The recap above is adapted from our Wire newsletter, where we share weekly insights and deep-dives on the most pressing and important narratives in crypto.
Disclaimer: This report is for informational purposes only and is not investment or trading advice. The views and opinions expressed in this report are exclusively those of the author, and do not necessarily reflect the views or positions of The Tie Inc. The Author may be holding the token or using the strategies mentioned in this report. You are fully responsible for any decisions you make; The Tie Inc. is not liable for any loss or damage caused by reliance on information provided. For investment advice, please consult a registered investment advisor.
Stay up to date
Sign up to receive an email when we release a new post
Jake Langer
Jake Langer, Author at The Tie